I love Pillsbury crescent rolls. They're so soft and flaky, but did you know that they can be used for more than just making plain ole crescent rolls? Because the dough is so versatile they're a wonderful base for dessert recipes too!
So, I've created a list of some of the things that you can make with them to satisfy that sweet tooth.
These easy dessert ideas for using canned crescent roll dough are sure to come in handy for whenever you're craving a last minute treat.
1. Crescent Roll Apple Danishes
Get the recipe here at The Country Cook.
This recipe is perfect for Fall!
The crescent roll dough is first coated with butter and cinnamon sugar, then shaped into a danish, and filled with apple pie filling. After baking, each danish is drizzled with vanilla glaze. Yum!
2. Nutella Crescent Rolls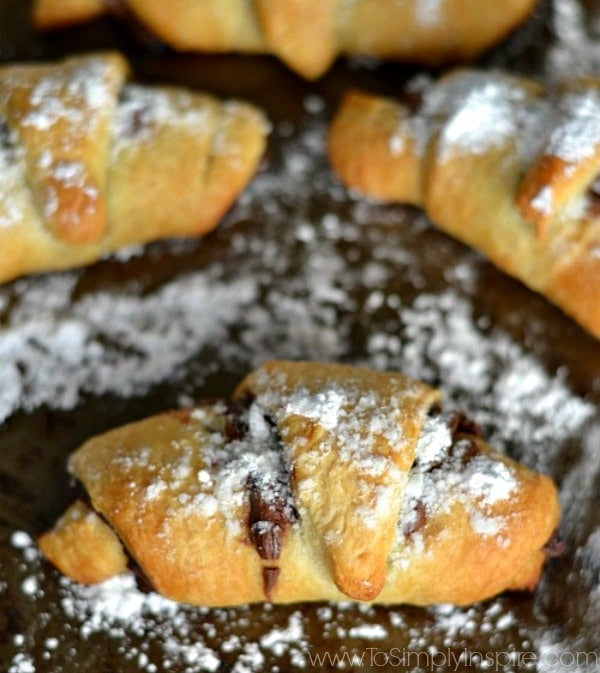 Get the recipe here at To Simply Inspire.
This 3 ingredient recipe is super simple and easy to make, and it's ready in less than 20 minutes!
If you're a big fan of Nutella, you'll love these.
3. Cinnamon Roll Crescent Rolls
Get the recipe here at Beat Bake Eat.
These crescent rolls taste just like cinnamon rolls and they take less than 25 minutes to make.
The dough is filled with a buttery, brown sugar and cinnamon filling, rolled up, baked to perfection, then drizzled with vanilla icing.
You've gotta try these!
4. Peach Dumplings
Get the recipe here at Southern Bite.
If you've got one peach, you can make this recipe.
Peach slices are rolled up in the crescent dough, topped with a buttery cinnamon sugar mixture, then baked in lemon-lime soda.
It may sound bizarre, but this recipe has rave reviews. Don't knock it till you try it!
5. Strawberry Cheesecake Crescent Ring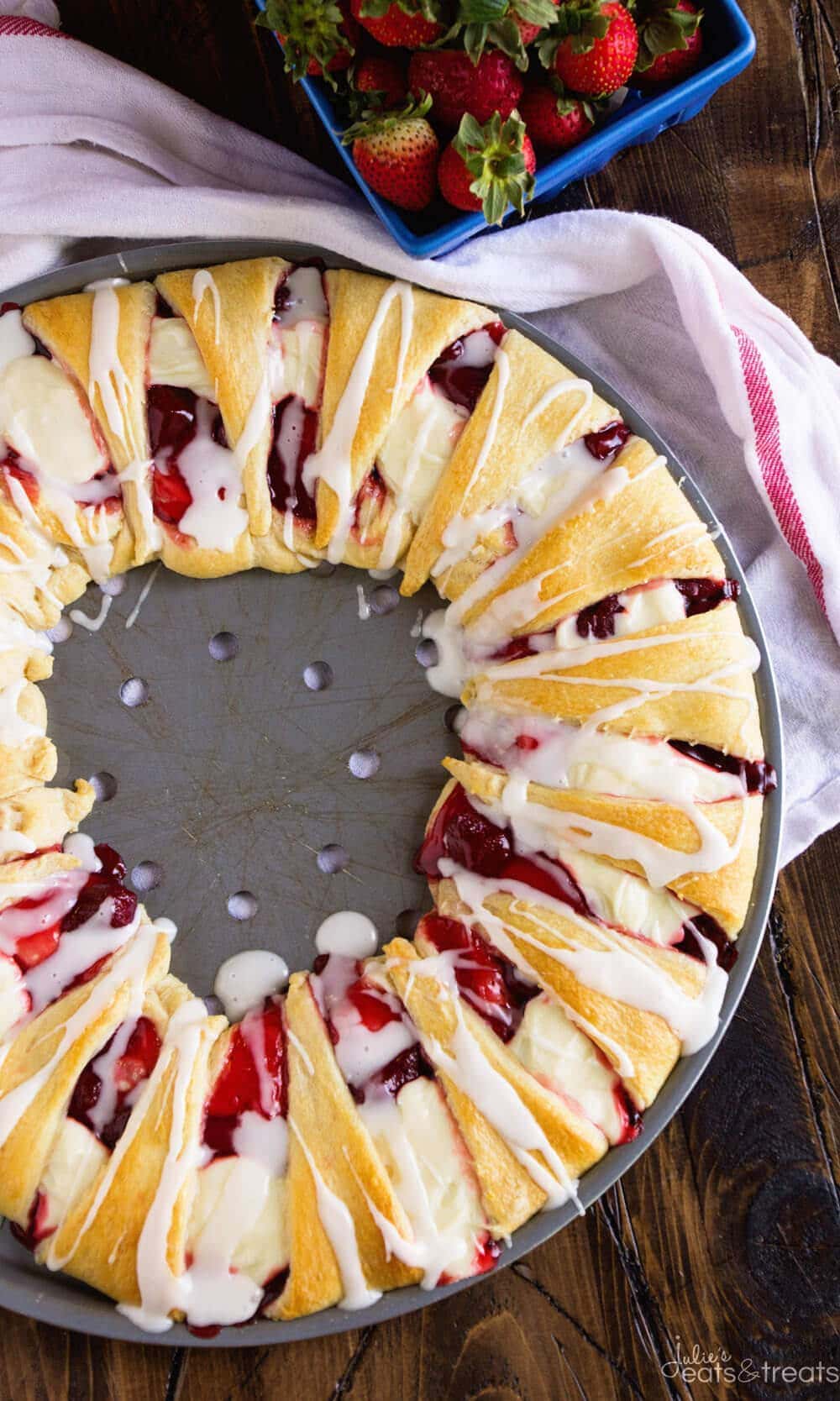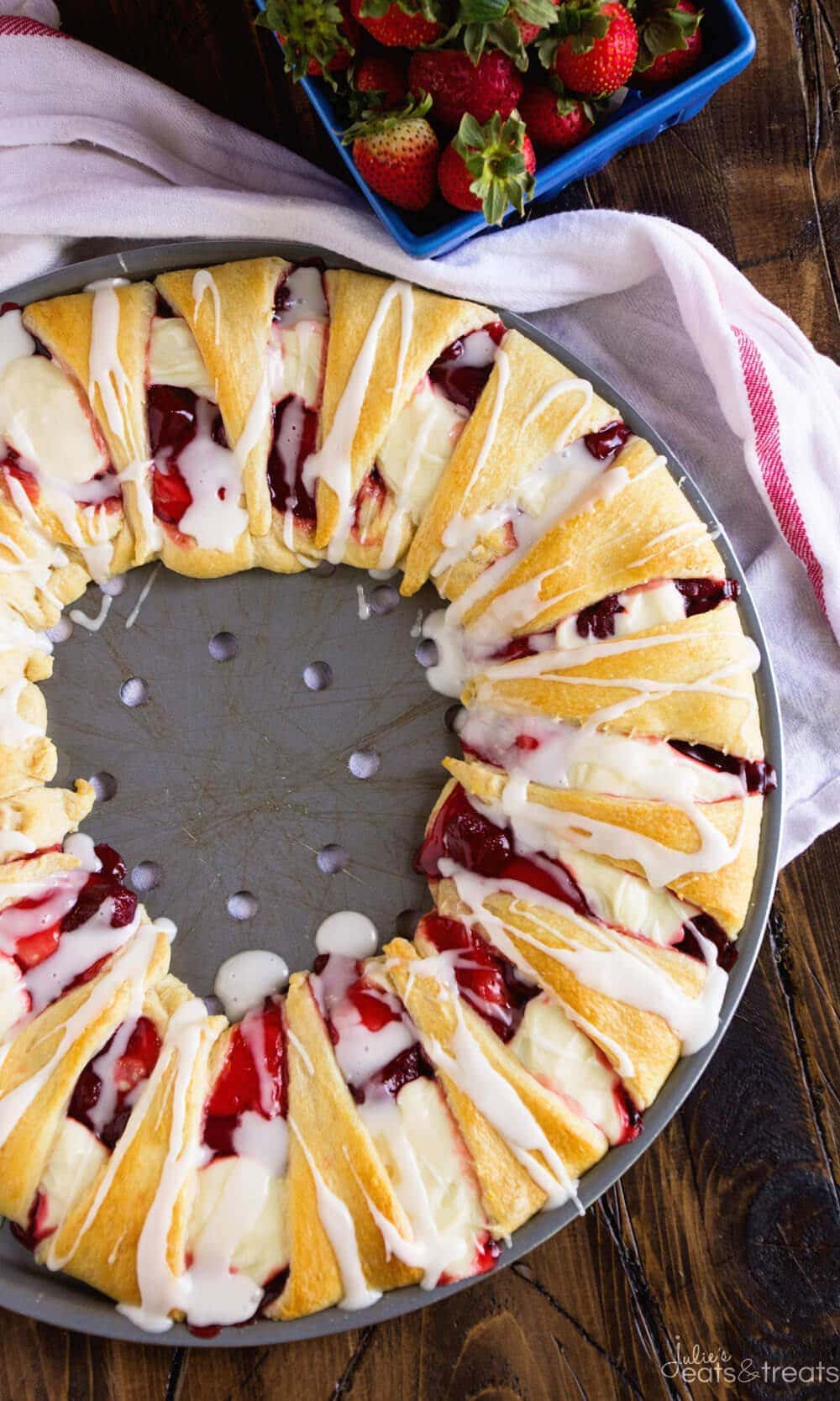 Get the recipe here at Julie's Eats and Treats.
This is one of the most beautiful yet simple desserts I've ever seen!
This crescent ring is filled with strawberry pie filling and cream cheese, and drizzled with glaze. The great thing about this recipe is that you can use any flavor pie filling that you want.
6. Pecan Sticky Buns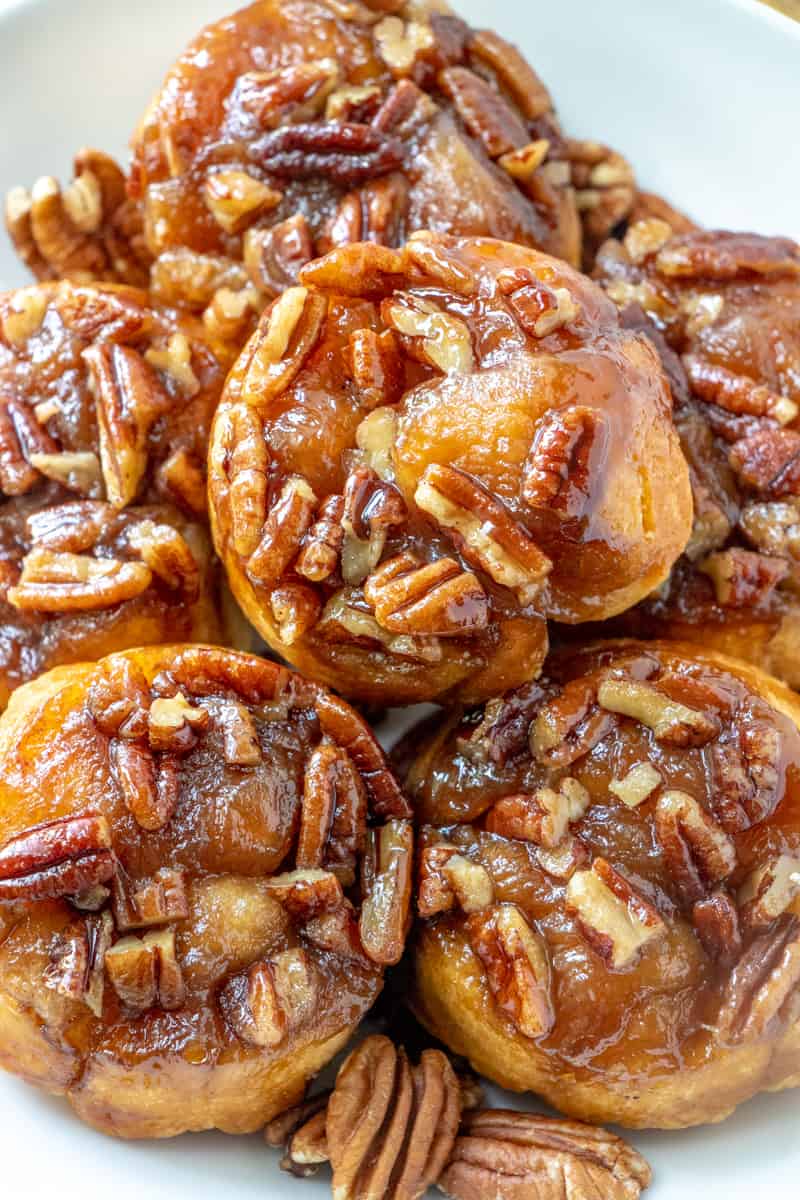 Get the recipe here at Tornadough Alli.
This has got to be one of the most clever ways to use crescent roll dough.
Sticky buns do take quite a bit of time to make from scratch but this recipe cuts that time down by more than half! It's also much simpler, easier to make, and requires fewer ingredients.
7. Chocolate Hazelnut Braided Bread
Get the recipe here at Table for Seven.
This is such an elegant looking bread that is so simple to make. Those chocolate swirls are sure to steal the show at any dessert table.
8. Rainbow Palmiers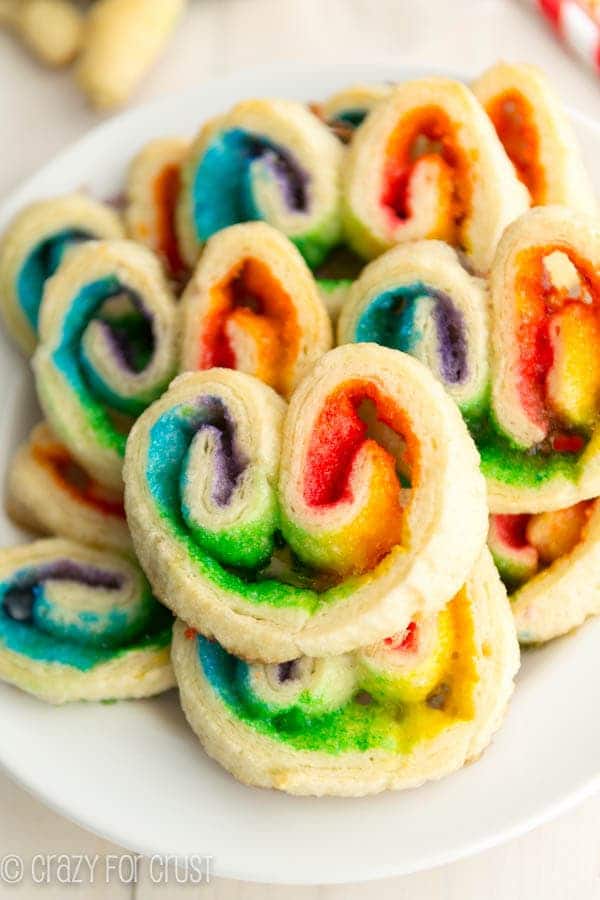 Get the recipe here at Crazy for Crust.
This 3 ingredient recipe is fun to make and so pretty to look at! It's perfect for kids.
9. Mini Cinnamon Rolls
Get the recipe here at Iowa Girl Eats.
These poppable treats are just like cinnamon rolls but bite-sized. Bet you can't eat just one!
10. Raspberry Crescent Rolls
Get the recipe here at Made to be a Momma.
This recipe could not be any simpler.
Each piece of dough is smeared with raspberry jam, then baked, then drizzled with glaze.
Any flavor jam works here! Strawberry would be a great substitute.
11. Lemon Cheesecake Crescent Rolls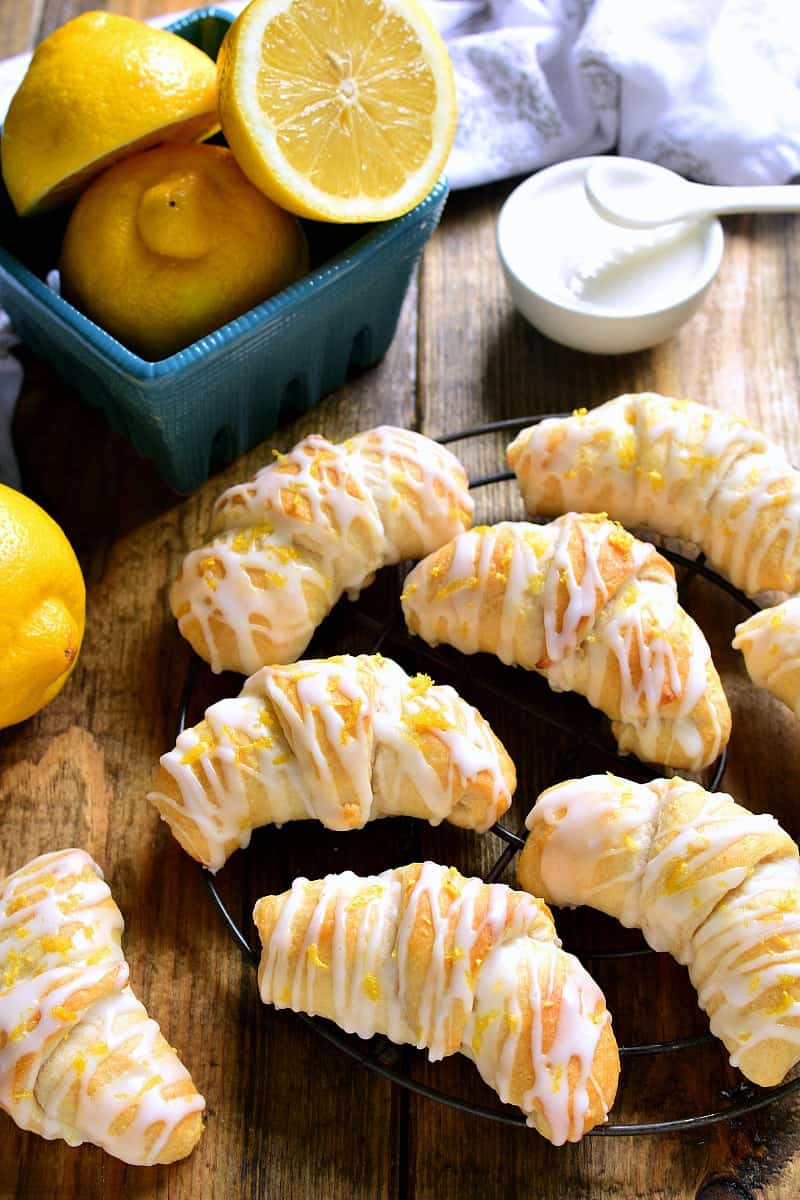 Get the recipe here at Lemon Tree Dwelling.
These rolls are filled with a creamy lemon cheesecake filling and topped with a citrusy glaze.
12. Cinnamon Sugar Pull-Apart Bread
Get the recipe here at The Work Top.
This Pull Apart Bread is made with buttered and cinnamon-sugar-sprinkled crescent roll dough.
Only 4 ingredients required and 10 minutes prep.
Follow Beat Bake Eat
for more crescent roll recipes!

PINTEREST | FACEBOOK
INSTAGRAM | TWITTER
If you know more crescent roll dessert hacks that aren't in this list, tell me about them in the comments below!