Classic Baking Recipes Spookified for Halloween
Whether you're throwing a costume party, getting in the Fall mood with family, or just baking for fun, this list of the most creative Halloween-themed baking recipes has got you covered.
1. Bleeding Black Cupcakes
Get the recipe here at The Flavor Bender.
These jet black cupcakes are made with black cocoa powder and topped with chocolate buttercream.
To make the "blood" that goes inside the cupcakes, you'll need white chocolate, red food coloring, and rose water.
2. Black Velvet Cheesecake Cookies
Get the recipe here at In Bloom Bakery.
Not only are these jet black cookies stuffed with a cheesecake filling, they're rolled in black cocoa sugar too!
3. Bloody Baked Donuts
Get the recipe here at Ashlee Marie.
Baked yeast donuts with apple pie filling and a bloody good caramel sauce.
4. Black Widow Peanut Butter Bars
Get the recipe here at Half Baked Harvest.
For this recipe, Tieghan uses her favorite peanut butter bars as the base.
Once they're done baking you slather them in creamy peanut butter while the bars are still warm, then chill.
To make the spiders you'll need chocolate whoppers, melted chocolate, black or silver sprinkles, and edible candy googly eyes. And to make the web you'll need melted marshmallows.
5. Witch Hat Cookies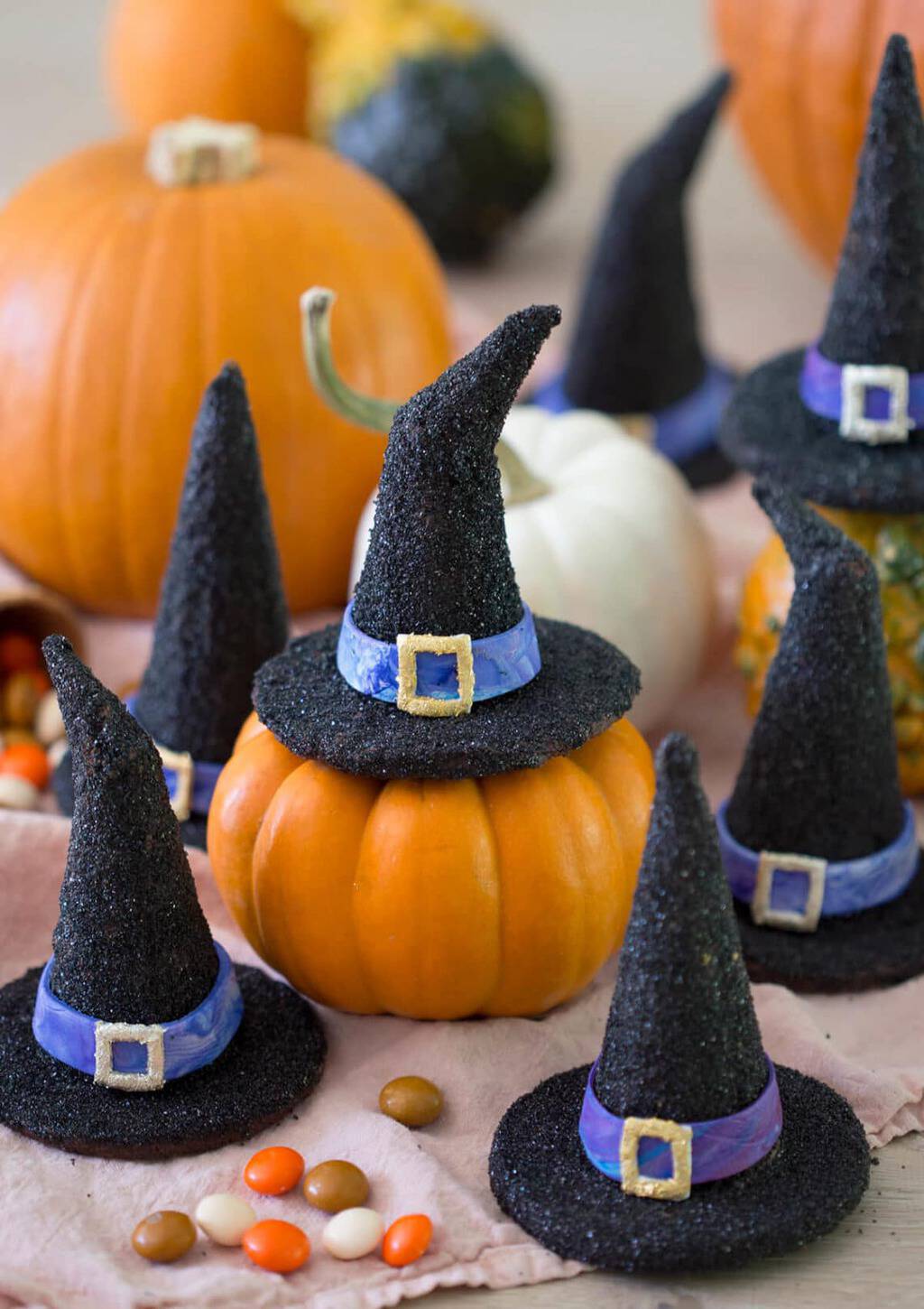 Get the recipe here at Preppy Kitchen.
For the base, John uses cut-out chocolate cookies and ice cream cones for the top of the hats; both rolled in black sanding sugar. And for the belt and buckles, he uses fondant.
These hats come with a much welcomed surprise; the cones are filled with candy!
They look fantastic.
6. Halloween Gingerbread Men
Get the recipe here at Mama Loves to Cook.
Gingerbread men dressed up as mummies, zombies, and skeletons.
The author includes the tools you'll need to make these decorations in the post!
7. Spooky Apple Blackberry Hand Pies
Get the recipe here at Peaches to Peaches.
The buttery dough is made from scratch, rolled out and shaped using Halloween-themed cookie cutters, filled with an apple and blackberry compote, and sealed with a fork.
8. Black Cocoa Cat-Shaped Cookies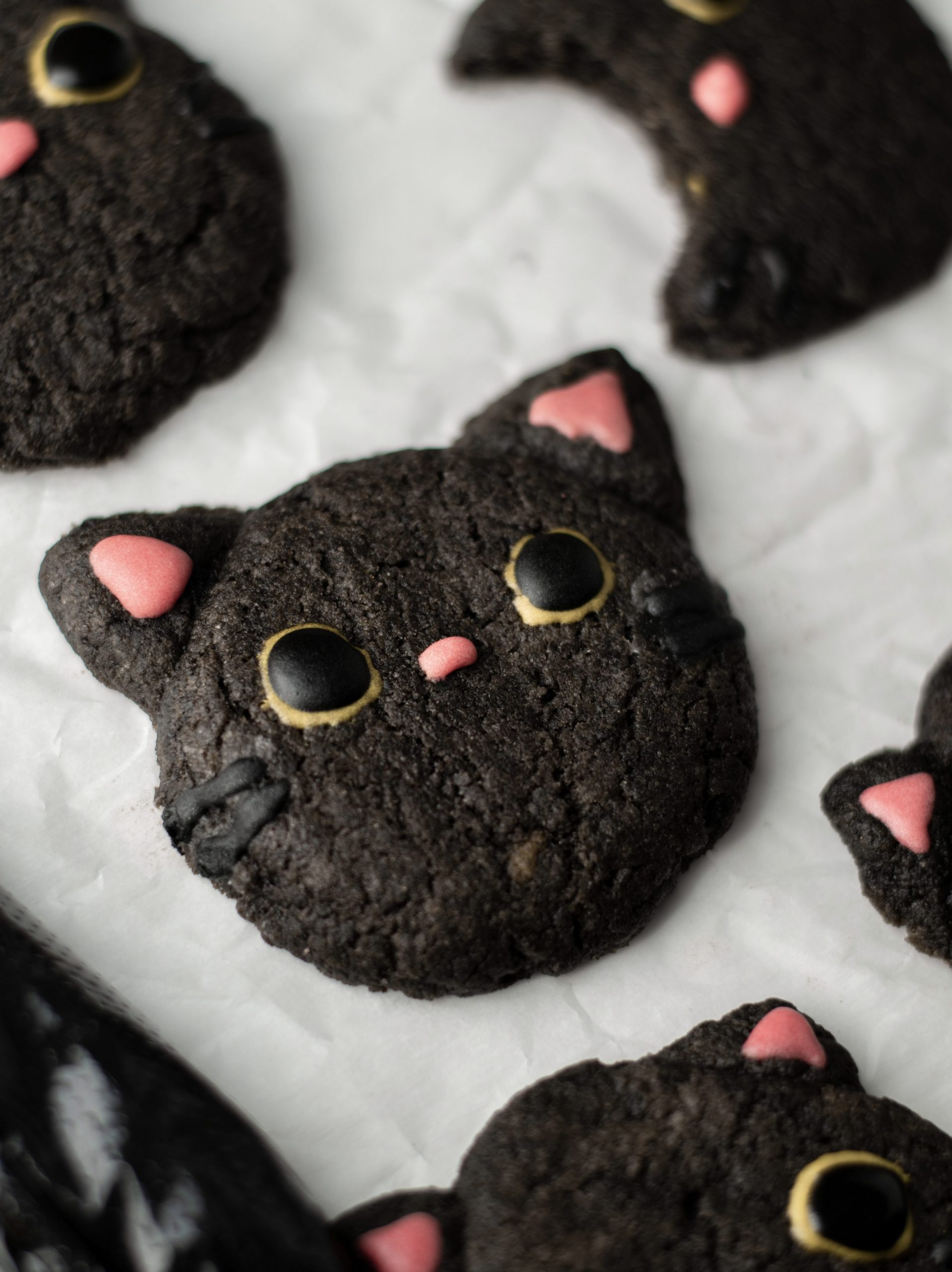 Get the recipe here at Bites by Bianca.
Decorated black chocolate sugar cookies shaped like cute-as-a-button cat faces.
Although this is a vegan recipe you can easily substitute all of the vegan ingredients with their dairy counterparts.
9. Bloody Red Velvet Cake
Get the recipe here at A baJillian Recipes.
A layered red velvet cake with a "bloody" white chocolate ganache drizzle, topped with candy "glass" shards.
Be careful. This one's sharp.
10. Witch Finger Cookies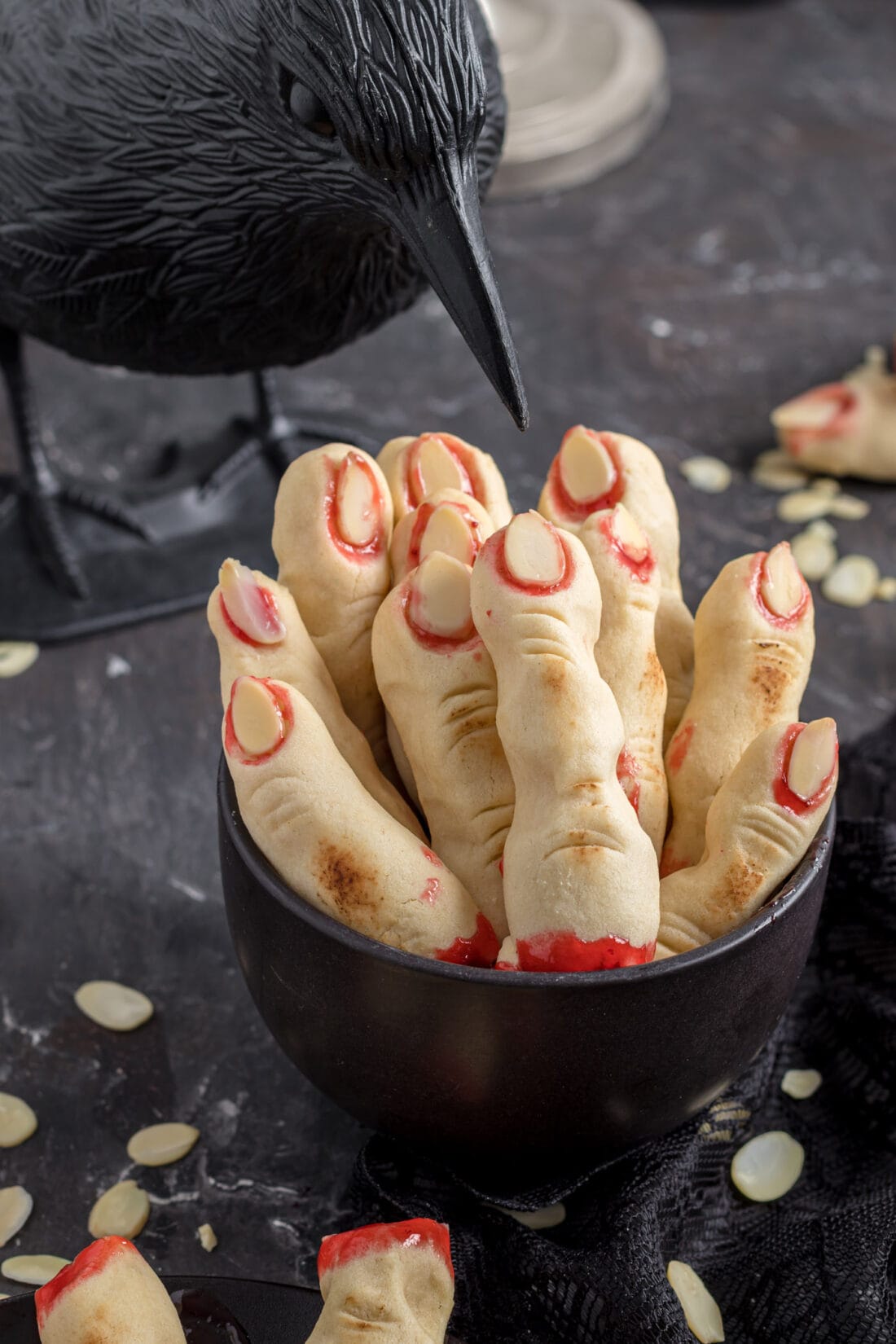 Get the recipe here at Amanda's Cookin'.
These cookies are made using butter cookie dough as the base, strawberry jam as the blood, and almond slices as the fingernails. Don't they look so realistic?!
The post author includes step-by-step photos for easy execution.
11. Jack-O-Lantern Hand Pies
Get the recipe here at So Much Food.
From-scratch pie dough cut into jack-o-lantern shapes using a pumpkin cookie cutter, and stuffed full with filling.
With this recipe you have two fillings to choose from; a bourbon apple filling and a roasted blackberry filling.
The scary apple jack-o-lantern is my favorite!
12. Black Velvet Cake
Get the recipe here at Sugar and Sparrow.
Naturally colored pitch-black cake layers slathered in black buttercream. The secret to this natural jet-black color? Black cocoa powder.
The author of this recipe says that this cake tastes just like the shell of an Oreo cookie!
13. Tombstone Chocolate Snack Cakes
Get the recipe here at Inspired by Charm.
These ding-dong inspired little buttermilk chocolate cakes are baked in a tombstone baking pan (the link to purchase is in the post), filled with red-dyed marshmallow creme, and brushed with a sugar glaze to enhance all of those ghoulie details.
What do you think? I like them!
14. Meringue Ghosts
Get the recipe here at Something Sweet Something Savoury.
The cutest little ghosts you've ever seen, made from just 3 simple ingredients.
15. Spider Web Halloween Cupcakes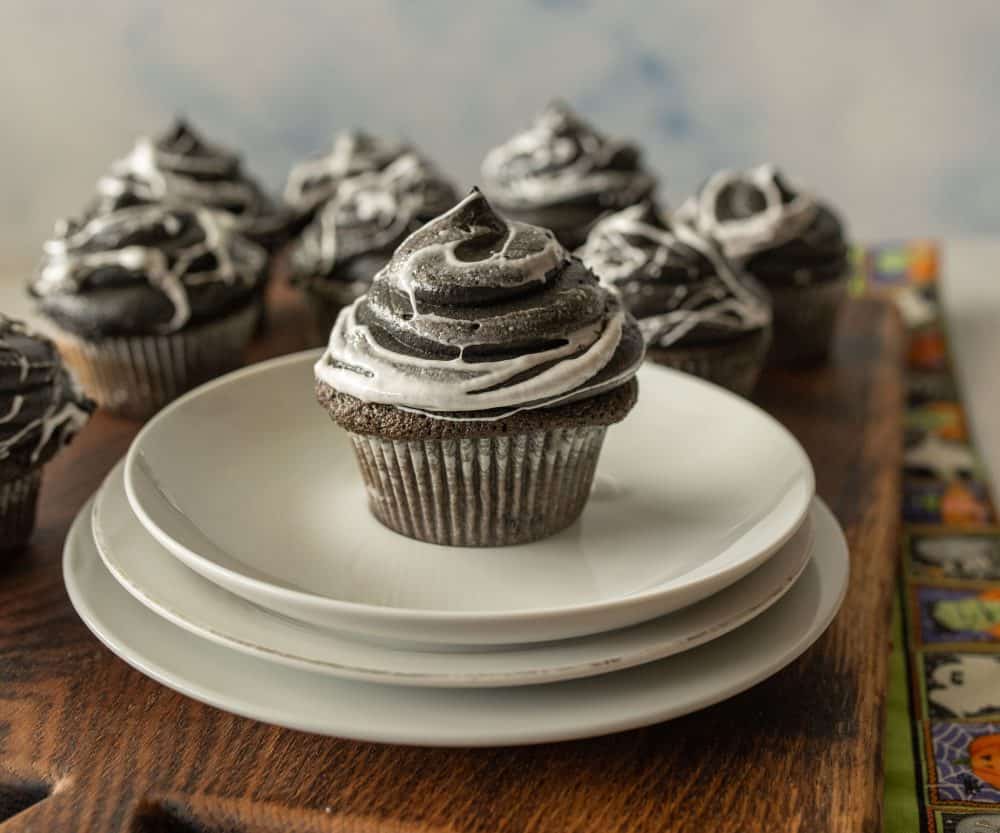 Get the recipe here at Bless this Mess.
Black velvet cupcakes topped with chocolate buttercream frosting and decorated with spider webs made of melted marshmallows.
After baking and frosting the cupcakes, melt the marshmallows, stretch them, then drape them over the frosting. Easy.
16. Halloween Royal Icing Cookies
Get the recipe here at Baker Street Society.
Cut-out sugar cookies decorated as bats, ghosts, and cauldrons.
17. Zombie Brain Brownie Bites
Get the recipe here at Sugar Hero.
Bite-sized brownies topped with a chocolate zombie brain that oozes green chocolate goo. Don't forget to watch the video!
18. Bloody Eyeball Pavlova
Get the recipe here at Celebration Generation.
These "bloody eyeballs" are made from lychees, jam, and blueberries. You should definitely add this to your Halloween party menu!
19. Baked Spiderweb Donuts
Get the recipe here at Urban Bakes.
Glazed chocolate donuts decorated with stretched melted marshmallows and halloween themed sprinkles.
20. Bubbling Witch's Cauldron Brownies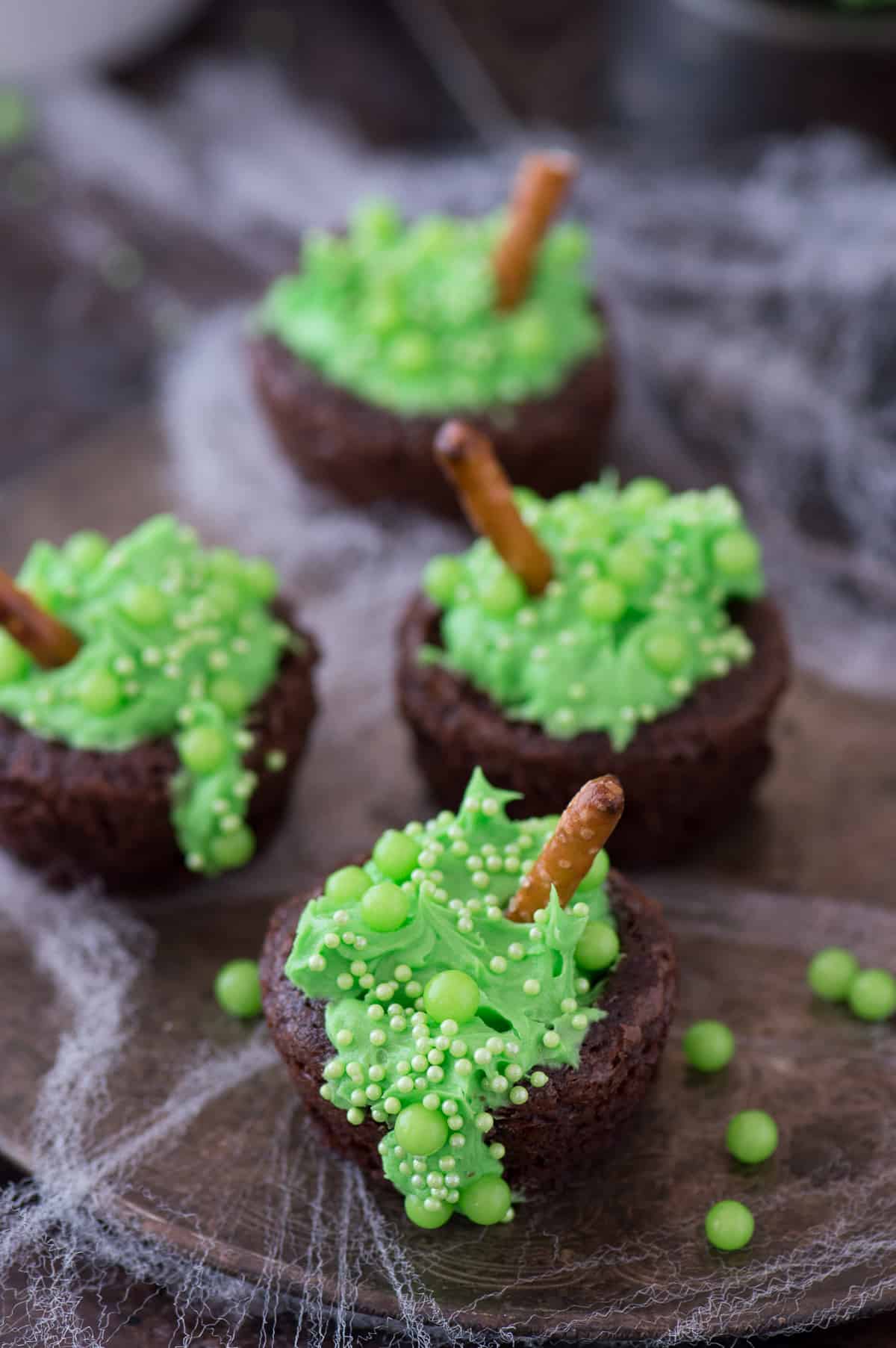 Get the recipe here at The First Year.
Little brownies baked in a mini muffin pan, decorated with green buttercream, green sprinkles, and pretzel sticks.
21. Pull-Apart Pumpkin Cupcakes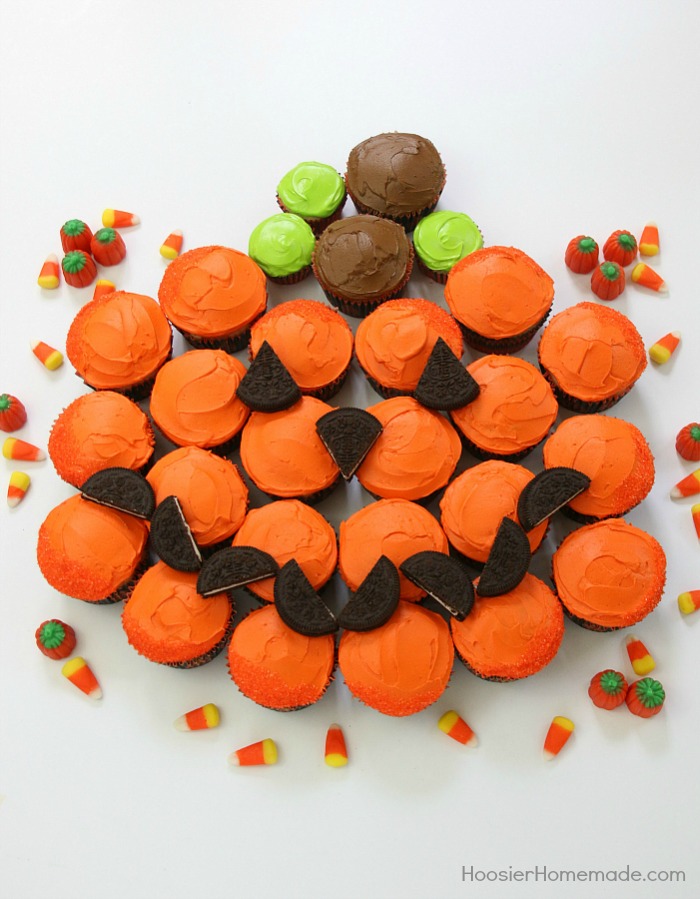 Get the recipe here at Hoosier Homemade.
First, bake and frost the cupcakes, then place them closely together to form the shape of a pumpkin.
The face is made using Oreo cookies!
---
© Beat Bake Eat. All content is copyright protected. Unauthorized use and/or duplication of this material without written consent from this site's author and/or owner is strictly prohibited.